Clinical Data Management, Analysis and Reporting
At CD BioSciences, we are dedicated to help in your clinical trial development from trial design and execution, data management to final reports. We provide our clients with high-quality, reliable, accurate and statistically sound data for clinical trials, facilitating the regulatory submission of the novel drug.
Clinical Data Management
Clinical Data Management (CDM) is a critical phase to reduce the time from drug development to regulatory approval. CDM is involved in all stages of clinical trial operation from protocol design to trial completion. CDM include a wide range of activities: case report form (CRF) design, CRF annotation, database set-up and design, data-entry, data management, medical coding, data cleaning and reporting, and etc. We exclusively focus on the accuracy of your clinical data, and provide you with superior clinical data management solutions. To best fulfill your customized requirements, we can provide a stand-alone or full-package CDM solutions.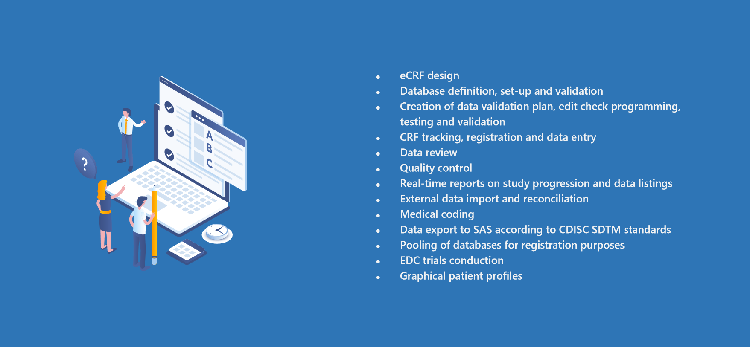 Clinical Data Analysis
We provide full-service data management activities including data acquisition/collection, data abstraction/extraction, data processing, data coding, data analysis, data transmission, data storage, data privacy and data quality assurance. Our clinicians, statisticians, programmers, data managers and other CDM team members are dedicated to providing better clinical trial data, facilitating earlier insights for your drug development programs. Here are some data modules we will analyze during CDM analysis. Our integrative analysis approach will ensure reliable, accurate and top-quality data.
Clinical Data Reporting
We support clinical data management from data analysis to final data reporting. Our medical writers, clinicians, statisticians, programmers, data managers, analytical scientists and other members work together to assist you with all reporting documents. All documents will be submission ready to facilitate the next regulatory affairs.
Highlights
Full integrated clinical data management capabilities;
End-to-end clinical data management, analysis, integration and reporting;
Highest quality data and submission ready reports;
Clinical data management analysis and reporting services for all clinical trials and therapeutic areas.
CD BioSciences can assist our clients with drug development every step of the way - from clinical trial design, operation to data analysis and reporting. We are committed to providing seamless integration of clinical data. To find out more services about clinical data, please contact us to know more.